22nd IG, CHINA 2020, organized by China IG MembersAlliance(CIGMA) and AITEvents, and jointly withgasworld UK will be held in Hangzhou International Expo Center from September 22 to 23, 2020.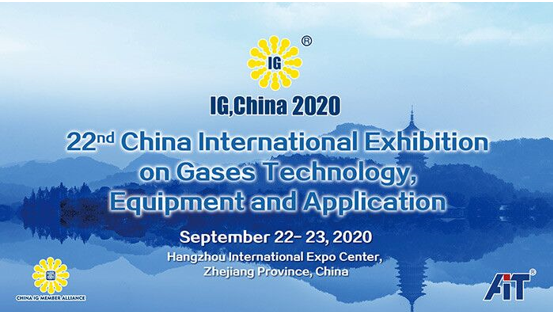 By today, more than 160 leading enterprises have signed up for the exhibition, most of them are regular clients for many years. It is expected that the size of IG China 2020 will exceed 9,000 square meters. The highlights of the exhibition include: electronic special gas area; LNG equipment technology area; storage equipment and new materials area. In the exhibition area of medical gas and supporting equipment, the registered exhibitors will include the leading players in the industrial chain, such as air separation equipment, pressure vessels, gas analysis instruments, pump valve fittings, gas transportation equipment and so on.

At the same time, the Organizers will also use Mobile Internet + GASonline video live broadcast platform to set up a Global Online Procurement B2BMeeting at the Show, with "O2O" procurement and match-making services for exhibitors through live video connections to the registered international buyers.

So far, the registered international buyers from Saudi Arabia, India, Malaysia, Thailand, the Philippines, Singapore, Indonesia, Poland, Russia, Brazil, Chile and ChinaTaiwan have confirmed to attend this"O2O" procurement and match-makingmeeting. Their plan for gas equipment procurement covers: air separation equipment, gas purification equipment, nitrogen and oxygen generating equipment, dryers, gas matching cabinets and so on. Storage equipment includes: seamless steel cylinders, welded gas cylinders, storage tanks, gas cylinder accessories. There are also some compressors, valves, instruments and other procurement requirements will be sorted out and released in the next issue. In addition, 10 more international buyers from Spain, the United Arab Emirates, Thailand and China Taiwan are preparing their tentative procurement list to join in the meeting. In the follow-up, more overseas buyers will be invited to join.
Selected from the tentative categories of products to be inquired and purchased fromthe registered international buyers, this "Global Online Procurement B2B Meeting" will have four special online video procurement sectors such as air separation equipment, compressors, valves, gas cylinders and instruments. They will be presented on the first and second day of the exhibition. The detailed schedule will be officially announced two weeks before the exhibition.

Moreover, the Organizers will send a live interview team to the exhibitors' booths for live broadcast, moving the exhibits at booths to the "cloud live show", in this case more domestic buyers can interact with exhibitors online and discuss and place orders without travels.
For more dynamic informationof IG, CHINA2020, please visit the official website: www.igchina-expo.com or follow our Twitter account: IG CHINA 1999 or Facebook &Linkedin account: IG CHINA.
Our Team contact:
Tel:+86 10- 8416 4557
Mobile:+86 13681482804
Email:jerry@ait-events.com