US-based air medical equipment specialist Spectrum Aeromed (Spectrum) has signed a deal with liquid oxygen (LOX) equipment provider Essex Industries (Essex) to integrate liquid oxygen (LOX) technology into aircraft designed for medical transport.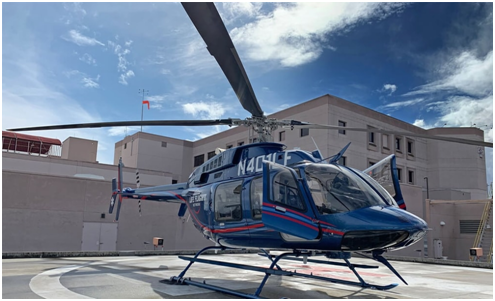 Having recognised a growing global trend towards the utilisation of longer-range fixed-wing aircraft for medical transport, the deal has seen the partners fit five supplemental type certificate (STC) applications with LOX technology, including the Leonardo AW109/119, Bell 407, Bell 429, Beechcraft King Air 300 Series, and Pilatus PC-12 aircraft.
Larger than the standard 3,500 litre compressed tank, the basketball-sized 10,000 litre tank (referred to as an 'orb') allows patients to receive medical oxygen in-flight during transport to specialised treatment facilities.
"We have observed a growing demand for these solutions in the aviation industry, both domestically and internationally, due to the benefits they offer in terms of safety, costs and operational efficiency," said Vicki Pettus, Senior Contracts Administrator at Essex Industries.
"We are excited to be a part of Spectrum Aeromed's positive impact on the air ambulance/EMS industry."
According to Spectrum, in the five years since providing its first LOX system on a King Air 350, the company has fitted LOX technology to over 30 different aircraft.
This has benefitted organisations such as not-for-profit air medical transport provider Life Flight Network, which expanded its Bell helicopter fleet to 29 with the recent addition of four model 407GXi's.
"During the last few years, we have experienced patients with increased oxygen demands due to severe respiratory illnesses," revealed Brian Rogge, Director of Clinical Services at Life Flight Network.
"This additional capacity provides flexibility on flight distances and back-to-back missions without the need for refilling. This adds confidence for me as a clinician to meet patients' oxygen demands regardless of the mode of respiratory support they demand."
The use of LOX in aircraft for medical transport dates back to around the mid-20th century, when the need for rapid and efficient medical evacuation spurred the development of medical air transport technologies during World War II.
One of the earliest documented instances of in-flight medical oxygen use was during the war when wounded soldiers were transported via converted cargo planes, such as the Douglas C-47 Skytrain (DC-3) fitted with LOX systems.
Today, LOX systems are a standard feature in medical aircraft, providing critical care for patients in need of oxygen therapy during transport.