UAE Government owned renewable energy company Masdar has signed an agreement with the International Finance Corporation (ICF) to achieve hydrogen breakthroughs.
The two companies will explore areas of collaboration to support climate action for emerging markets such as green hydrogen, renewable energy and green finance.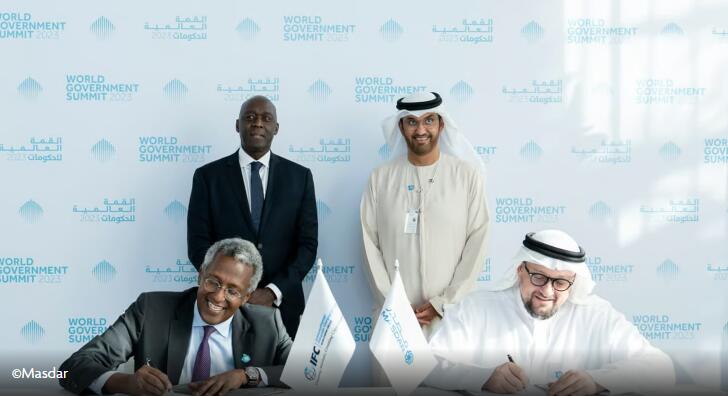 Under the agreement, Masdar and the ICF aim to establish green hydrogen platforms for emerging markets, and potential collaboration on bankability and structuring issues for African renewable energy projects.
At the recently conducted Abu Dhabi Sustainability Week 2023, Masdar announced the signing of deals for projects with a combined generation capacity of 5GW across Angola, Uganda and Zambia.
A joint report released by Masdar and Abu Dhabi Sustainability Week last year (2022) revealed that Africa could produce 30 to 60 million tonnes of green hydrogen annually, with a $680bn to $1,300bn price tag.
Mohamed Jameel Al Ramahi, Masdar CEO, said, "We are confident this agreement will serve as the foundation for further impactful collaborations that advance sustainable development in the countries and communities that need it most."
MakhtarDiop, Managing Director of ICF, added, "We are excited to advance our partnership with Masdar today and leverage ICF's climate expertise across emerging markets to support Masdar in achieving breakthroughs in sectors such as renewable energy, green hydrogen and green finance."
The ICF is a member of the World Bank Group and uses its capital expertise and influence to create markets and opportunities in developing countries.
At COP27 in Egypt, the World Bank Group launched the Hydrogen Development Partnership (H4D), a global initiative to boost the deployment of low-carbon hydrogen in developing countries.
Masdar is active in developing utility-scale and DPV projects to bring clean energy to communities across Asia and Africa, and has completed projects in Egypt, Mauritania, Seychelles and Morocco.
Last year, Masdar announced it will support the development of green hydrogen production in Egypt following the signing of a Memorandum of Understanding with Hassan Allam Utilities.
The two companies planned to install a 4GW electrolyser by 2030, which will have an annual output of up to 480,000 tonnes of green hydrogen.